Application
Apply 5 to 6 pump doses directly to the scalp in the morning and evening. Gently massage the solution into the appropriate areas. Do not rinse. After the action, the hair can be styled as desired.
Note on the mechanism of action
Redensyl® reactivates inactive hair follicles and thus promotes hair growth. After about two to four weeks of continuous use, the scalp has become accustomed to the active ingredient complex Redensyl®. The hair follicles are then strong enough to produce new hair substance outside of the skin layer.

The hair is in the growth phase and is becoming longer and thicker. The first (measurable) results can be expected after about 6-10 weeks. Subsequently, the changes begin to become visible.

The progression of the process can depend on genetic disposition as well as several environmental factors such as lifestyle and diet. For this reason, Panthrix® should be tested for at least 3 months before assessing the results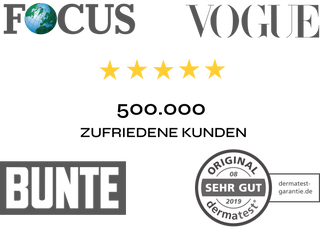 2x as effective as Minoxidil
Our hair growth technology is based on the latest findings in stem cell science and several years of intensive research. Clinical studies confirm that the main active ingredient Redensyl can counteract hereditary hair loss and thinning hair very well.
Shedding
Shedding refers to the short-term severe hair loss that can be seen positively as part of a successful topical hair growth therapy. As part of a successful treatment progress, the hair with a short life expectancy falls out in the telogen growth phase. They give way to the new hairs of the anagen growth phase, which are thicker and longer-lasting.

Made in Germany
Our hair growth activator is made in Germany.
Patented active ingredient
Redensyl is very well tolerated and, according to clinical studies, improves hair growth twice as effectively as Minoxidil.
hormone free
The Panthrix serum supports hair growth - without hormones.
Satisfaction Guarantee
If you don't see a positive result after 150 days, we'll refund you 100% of the purchase price.